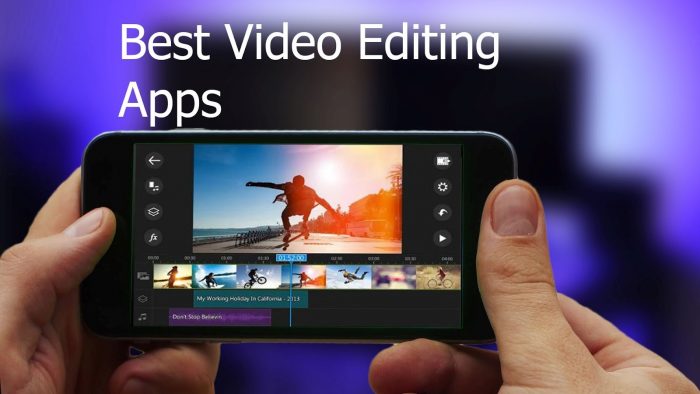 People are used to editing videos on their personal computers. But today, with the video editing app for android, everyone can start editing video through their smartphone. Though there's a free video editing app for android, many more require payment to enjoy the complete features. Before downloading one or even more editing video app that's a free download, remember one thing.
Video editing app for android is a heavy application that requires not only a bunch of storage but also RAM. So if your smartphone has limited RAM and storage, you better look for easy to use application that comes in small size. But if your smartphone's ready, you're ready to learn to edit your video. And here are top apps to help you practice. Practice makes perfect, right?
Best Free Video Editing App for Android
1. ActionDirector
Here's a good video editing app that comes in the free version. Its PC version has been really famous. Fortunately, there's a phone version available for your android. This app lets you importing clips, editing them, also rendering videos. ActionDirector also allows you to add your favorite music, cut and trim video, employing slow motion, adding text, and many more.
2. Adobe Premiere Rush
This is also available for free. Adobe Premiere Rush is what you need when you're looking for a professional video editor for your android device. Adobe provides this app and its brother, Adobe Premiere Clip for those who need expert video editors. Adobe Premiere Rush is completed with many features like cloud syncing, multi-track timelines, and advanced tools to help you edit.
3. FilmoraGo
Wondershare offered this FilmoraGo to help you edit your video easily. What is good from this app is the various basic features like render, trim, cut, and so on. This app also lets you create square videos to be uploaded on your Instagram or 16:9 videos that are perfect for your YouTube channel. Music, transitions, overlays, and slow motions are some best features it offers.
4. VivaVideo
For me, this one is the easiest video editor to use. You will find more than two hundred filters for your video in this app. Many effects are available to be used. It supports the slow and fast motion effects. The free version of this app adds a watermark to your videos. If you want an app that lets you edit videos without watermark, upgrade it to the pro version.
5. Quik
Another simple video editing app for android is called Quik. You can add about fifty video clips and photos into this app. Then Quik will analyze them before it spits short video created from the data you uploaded. There are around two dozen styles of video that you can customize and reorder before exporting the new video. This app is totally free without in-application purchases.
6. PowerDirector
If you're looking for an app with a bunch of features, this one is the right choice. It has tons of effects, collage maker options, and even slow-motion feature. Everyone can download this on their android app for free but to unlock the entire features you need to upgrade the app to the premium version. This app is also the best one for your android tablets.
7. Movie Maker Filmmaker
Trimming, cropping, and reordering the content of video becomes much easier with the help of this app. This one is an app with the best VFX that lets you design the custom filters you desire. Movie Maker Filmmaker also comes with the other basic features like the best audio-video. If you want a free app that is free from ads, this one is what you want.
8. KineMaster
If the other apps give you video filters, this one comes with both video filters and audio filters. If you need one excellent app that's going to help you make amazing videos for your YouTube channel, you'll love this one. Trial mode lets you try using this application but not forever. Subscription requires you to pay less than five dollars per month. Oh yeah, I'm using this sone by the way 😀
9. InShot
An extremely simple video editing app for android is InShot. It focuses on video trimming, filters, and some shorter videos. The timeline editor is simple with multiple audio and video channels. Basic tools such as music selection and cropping can be found in this app. The free version can be upgraded to pro version by paying thirty dollars once for a lifetime.
10. Funimate
Funimate has fifteen filters for your video. Play with those filters and create a flawless video for your social media account. This app comes for free but there'll be in-app purchases you'll see. Though Funimate is an amazing app to create social media videos, this one isn't good enough to make professional video production. Don't expect too much from this one.
11. WeVideo
This is a perfect app for those who need extra storage space. This app is a cloud-based editor. It accesses and hosts online so you don't have to work from your smart phone's hard drive anymore. The free version gives you ten gigabytes of cloud storage to save the videos you edit. If you are planning to make so many videos, you'll want to upgrade to premium versions.
12. PicPlayPost
Creating video collages is truly easy thanks to this app. If you want to narrate a separate video, PicPlayPost is a perfect choice. Your Instagram video will be more interesting because of the video collage offered by this app. It lets you teach a new dance move – for example. Show your followers your latest move on the left video. And show them the steps on the right video.
13. Horizon
That makes everyone loves this app is it can be used very easily. Unfortunately, the android version of this app is less advanced compared to the iOS version.
Which video editing app for android suits your needs the most? If you're making videos of YouTube channels to earn money, you'll want to get the pro one. But if it is just for your social media like Facebook and Instagram, the free version would be enough. Don't forget to consider the ability of your smartphone. Don't get the big one if its storage and RAM isn't enough.