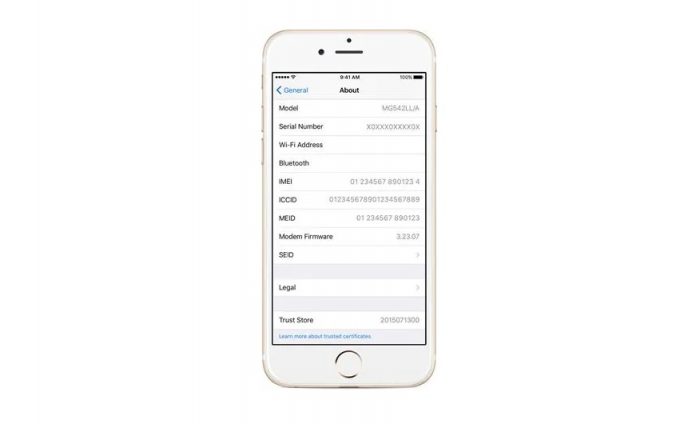 IMEI stands for International Mobile Equipment Identity. In other words, IMEI is the production code that distinguishes one device from another so that no device has the same IMEI.
Nowadays many iPhone replicas are manufactured and sold under the name of the Original iPhone. Well, one way to distinguish the original and fake iPhone is to check the IMEI number, Although the most striking is the form and physical quality. IMEI also serves to find out if Your iPhone is legal or black market goods.
How to Find and Show Imei on iPhone
This is 4 method to show IMEI on your iPhone, please follow this guide.
Show IMEI Using Dialpad
This way it is very easy to effectively check the IMEI on any type of phone, be it Android or iPhone. Just open the calls menu like when you want to make a phone call, then type the code *#06# then the screen will automatically display the IMEI number of your iPhone. This is the easiest and most accurate way.
Show IMEI in About Phone
The next easiest way to check the IMEI is through your iPhone's system settings. Go to ' Settings / General / About '. On the ' About ' menu look for the IMEI of your iPhone. In addition to IMEI, you can also check the MEID, ICCID in this way.
Show IMEI Using Slot SIM Card
You can also see the IMEI via SIM tray slot, usually there written an IMEI of your iPhone
Show IMEI Using iTunes
iTunes doesn't just work to add music to your iPhone. This is Apple's official Software can also check the IMEI on Your iPhone. It's also quite easy, just connect Your iPhone to a computer that has iTunes installed. Then, if you manage to connect, click ' Library ' in iTunes, then automatically the data from Your iPhone will be displayed on your screen, including the iPhone IMEI number. Good luck
If you already know the IMEI number, try to match the IMEI written on your iPhone's deskbook. If it doesn't match, it's likely that Your iPhone is a counterfeit or stolen product.
You can do your iPhone IMEI check, you can also match it through the website imei.info.
When you log in to this site, you just have to type the IMEI number you got from your iPhone in the above way.
Paste the IMEInya and enter the Captcha.
After that, this website will give you complete data about your iPhone. If you have entered the IMEI listed on your iPhone, but the data displayed is data from another phone or data is not available, then it is certain that your iPhone is the counterfeit or black market product.
See ya next time. Neko