Send Messages on WhatsApp without Saving the Contacts
WhatsApp is a very popular application on Android or iOS, the features on WhatsApp are simple to use by among people.
WhatsApp is an instant message application like BBM, Telegram, LINE or other instant chat applications.
To send a message on WhatsApp, you must have a contact number that is already registered on WhatsApp, if you didn't save your friend or your target contacts/number, you'll not able to send the message from WhatsApp.
Suggestion:
Well, if you want to chat with your target but don't want to save their number, you can follow this tutorial.
TUTORIAL WHATSAPP WITHOUT SAVING NUMBER
1. Using Direct Link
To send a message on WhatsApp without saving the target's number, the first and simplest method it's using the direct link that's already provided by WhatsApp.
To use this method, you only need a browser like default browser, Chrome, UC, Via, or other browsers.
How to Use?
Copy the target's WhatsApp number
Open this link on your browser

https://api.whatsapp.com/send?phone=171486xxxxx

Replace

171486xxxxx

with your target number, NOTE: Don't use "+"
Enter and hit "Message"
2. Using Applications
There are a lot of applications that you can use to sending your messages on WhatsApp without saving the number first. This method is simple too but you must download the application first, just search "
Quick Chat for WhatsApp
" on Play Store or AppStore.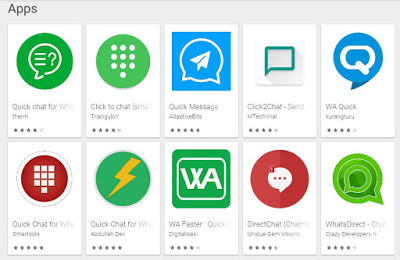 The average of these applications only requires the target number.
That's the simple method of sending messages on WhatsApp without saving the contact or number. you can use this method for any devices that are already "have" and "logged in" for WhatsApp.
Suggestion:
Any questions? Have a problem?
Just type in the comment section.
See you next time!
Neko