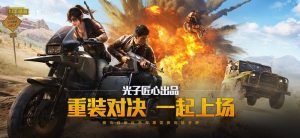 How to Download PUBG Mobile China (Game for Piece)
Hi survivor! Did you know the PUBG Mobile was blocked in China? so the Developer change the name of PUBG into "Game for Piece"
This's the first version of PUBG Mobile and of course, this version will get the first update before the Global or Korean version.
The UI appearance is a little different from the Global/VN/KR version, and the graphics are a bit lighter. The language is Chinese only!
Suggestion: How to Install PUBG Mobile KR/JP, PUBG Mobile Korean/Japan Version
It's easy to download "Game for Piece" to your phone, we use the 3rd app (Tap Tap), with this application, you'll be allowed the download to external SDcard, and automatically installed after downloading.
Suggestion: How to Update PUBG Mobile Korea/Japan
Why not using the Play Store?
You need a Chinese VPN if you want to install it from Play Store and it will be a little bit confusing if you're new. So let's do with this way!
DOWNLOADING GAME FOR PIECE (PUBG MOBILE CN)
First, Install the Tap Tap application HERE
Open and go to Settings / Install and Download
Then Turn OFF the "Auto Delete Apks"
"This's because if you had a installation problem, the APK you've downloaded will not be deleted for autommatically!"
Then search for "Game for Piece"
"The application will be installed automatically and the OBB data too!"
OK! That's easy. If you have a problem when installing the APK, maybe your storage is not much! You can still install it again without re-download it. Open the Tap application, Hit at "My Games", look at the Top-right, Hit the "Download" button, Install again from there. And make sure you've prepared the storage!
Suggestion: How to Become a PUBG Mobile BETA Tester! (Android/iOS)
That's how to download 'Game for Piece'!
Have a problem or anything to ask me?
Just type in the comment below
Have a nice day!
See ya net time
Neko