How to Open The Deep Web/Dark Web on Android
The search engine like "Google", "Bing", "Yandex", "Yahoo", and others that we know as the most famous search engine on the world.
To search the information or whatever you want, maybe "Google Search" is the first choice, with millions of second search results, Google gives your internet experience faster and more accurate.
Well…
I'm Neko.
Welcome to NyaaTech – Get interesting information and tutorials about Android, Tutorials, Gaming, Technology, Anime, Hobbies, Lifestyle. The information provided and the tutorial on this site are all free.
But did you know, the sites that we can explore in this world maybe 4% of the totals, include: "Facebook", "Google", "Youtube", And all others that can index by Google or others search engine. Yupp,,, That's only 4%
And 96% is DEEP WEB
Deep Web/Dark Web/Dark Net is a collection of World Wide Web/WWW/Internet content that is not indexed by standard search engines such as Google, Bing, Yahoo, Yandex, and others standard search engines.
Can we say the Deep Web is the deepest part of the internet that is very hidden, Not many people know it or even can access it.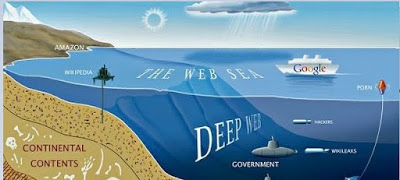 But why?
Because the Deep Web contains terrible contents, but not of all, in the Deep Web, you can access the hidden information like in "Hidden Wiki".
The contents in the Dark Web include: "illegal firearms sales", "sexual violence", "sadistic murder", "drugs", "hackers" and other terrible contents.
After reading that, if you still want to know the Safest Way How to Access The Deep Web/Dark Web on Android, follow this tutorial.
Suggestion:
TUTORIAL TO ACCESS THE DEEP WEB USING ANDROID
Download "Orbot: Proxy with Tor" and "Orfox" in PlayStore
Open "Orbot" and click "Connect", You can also enable "VPN mode"
After connected, open "Orfox" and start surfing at the Deep Web
You can go to "Hidden Wiki" as a beginner
LINK HIDDEN WIKI :
https://kpvz7ki2lzvnwve7.onion
LINK TORCH (popular search engine) : https://xmh57jrzrnw6insl.onion
Everything that happens is entirely your responsibility, Be careful when you using Deep Web, maybe you will see something that you don't want to see and that not our responsibility.
Suggestion:
Well,
That's Safest Way How to Access The Deep Web/Dark Web on Android, be careful…
Anything to ask me?
Just type in the comment section.
See you next time
Neko