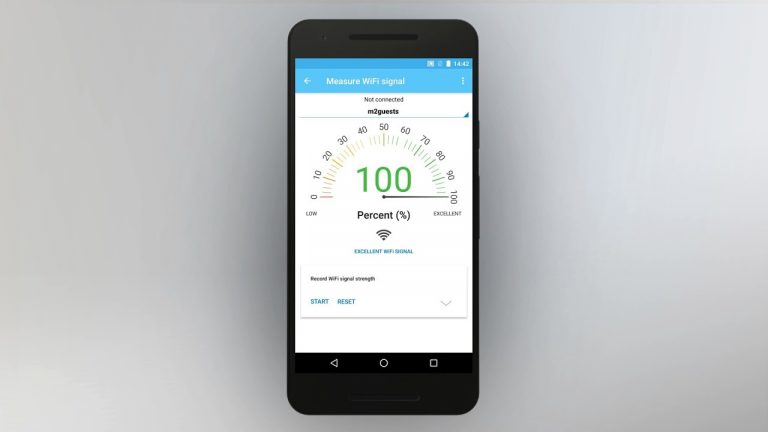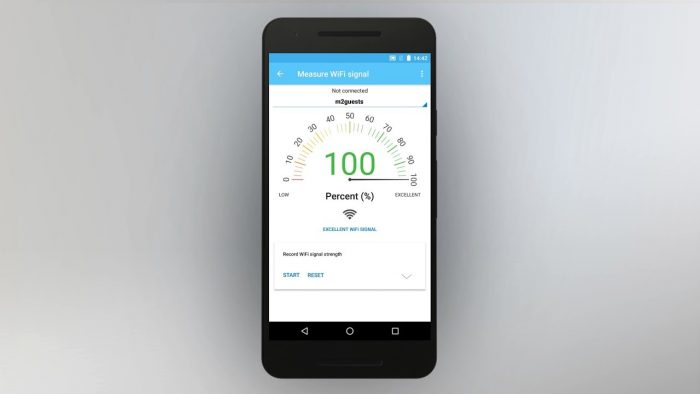 When you're in the middle of war then the signal is gone, other gamers would kill you. The connection is everything for a gamer, and the others who work with android and iPhone. One excellent solution is staying close to the Wi-Fi router. Unfortunately, you may feel comfortable playing or working in the room next to the room where the router is located. Then you need a different solution.
Download the Wi-Fi signal strength app on your phone and test the internet connection of your Wi-Fi. The connection indicator of Wi-Fi in your mac or other iOS devices must show you that the curves or lines are full. If it shows you that you don't have a strong connection, you absolutely need to download the app to check your connection. There are a bunch of apps you can get on either androids or iPhones.
Wi-Fi Signal Strength App for iPhone
Not the entire applications are available for both iPhone and Android devices. If you're an iPhone user, you may have to try some best Wi-Fi signal strength app to see how strong your internet connection is. And among thousands of signal strength applications, I found some wonderful apps either for iPad or iPhone. Here are some of them:
1. Wi-Fi SweetSpots
This app is the best one for the iPod touch, iPad, and iPhone. Yet you must update your iOS to 9.0 before downloading it. It is going to observe the speed fluctuation of your Wi-Fi connection. And its name tells you that this app is going to locate the spots that have the slowest and fastest Wi-Fi connection. You absolutely need this one especially if you love moving from one spot to another.
2. NetSpot
Here comes the other best free app to check your Wi-Fi connection. This one can be run on MacBook with a 10.10 operating system or higher. This can also be run on Windows 7 or higher. If you don't want to leave your game on your iPhone, checking the Wi-Fi strength through your PC is a good idea. it provides some ways to measure the strength of your Wi-Fi connection.
3. Netty
Netty is going to analyze your network through your iPad and iPhone. Use it to scan the list of the entire devices connected to your Wi-Fi network. This app comes with a simple interface that eases you to use it. Download the app now to see and use the entire features. Then check your Wi-Fi connection so you'll know what to do to fix the Wi-Fi.
4. iNet
Exploring local network need a good app like this one. iNet has several top features. One of them lets you check your own network's security. This app is going to help you check if there are any unauthorized user is using your Wi-Fi network. It also allows you to get a list that shows you how many devices connecting to the Wi-Fi network.
5. Scany
Scany is designed for all iOS devices. It comes with a smart algorithm that is designed for huge sized networks. Scany will scan the Wi-Fi network easily while looking up the DNS you desire. This app is the best for users and admins who want to secure local Wi-Fi networks.
No matter what device you are using, you need to find the right Wi-Fi signal strength app for your device and learn how to use it. The different app comes with different features. Get the simplest one if you're new to it. If you understand how to use complicated features, get more professional apps that are completed with a bunch of features and options.
Wi-Fi Signal Strength App for Android
It will be unfair if I don't share the Wi-Fi signal strength app for android. Among so many free applications for android, some of them are free Wi-Fi signal strength app. Below are some you can try on your android device.
1. NetSpot
NetSpot lets you discover how many Wi-Fi networks available around your place. Then you can see those networks on the graph. Besides, you'll also get each detail of those networks like the security, channel, and signal level performance. This one is a totally free app for your android device. Go get it now.
2. WiFi Analyzer
Even compared to the first one above, this one is still the best option. This app comes with magnificent simplicity. While the other applications come with too many features and options, WiFi Analyzer offers simple and easy to operate feature. It will display the Wi-Fi networks on the graph. Unfortunately, there are ads to keep this free app running.
3. WiFi Monitor
This one comes with features divided into some tabs. The first tab, 'Connection' shows detail about the Wi-Fi network you're connected to. The second tab, 'Networks' lets you see the comparison of the entire available networks. 'Channels' tab shows you the traffic distribution of the Wi-Fi network you're connected to. 'Strength' helps you identify weak signal areas.
4. ScanFi
With this Wi-Fi signal strength app, you can get information about the closest Wi-Fi networks. This app is also visualizing the network's activities on graphs. With ScanFi you can also get historical details about the speed and strength of Wi-Fi. This app is totally free and can scan both 2.4 and 5 GHz Wi-Fi networks.
5. OpenSignal
Unlike the previous apps, this one has features that let you monitor the Wi-Fi networks and cellular networks. This app will display directions to the closest cell tower. It will also display connection quality and coverage on the map. You will also see latency tests and speed tests in this app. Wi-Fi information and many other details are also offered by this app.
If possible, get a Wi-Fi analyzer application that's free from the bug. Bugs may cause critical errors and crashes. Besides, bugs show that the developer of that app doesn't have a commitment to provide a good application for its users. Also, try to find an application that's not only easy to operate but also intuitive at once.
Yet, if you know how to read the entire data provided by complicated apps and how to test the signal of your Wi-Fi networks using the app, you're free to get any app you desire.