PUBG Mobile Korea or PUBG Mobile KRJP has unique features than the Global or Vietnam version. The server is only for the player from Japan or Korea. But the Japan and Korean servers have different features like items at the shop or quick voice chat.
When you playing the PUBG Mobile Korea but you login outside of Japan or Korean, the event items will not be shown! Why? Because this server is only for Japan or Korean players!
Both servers have different items at the shop, look this one
This's the items from the Korean server at the shop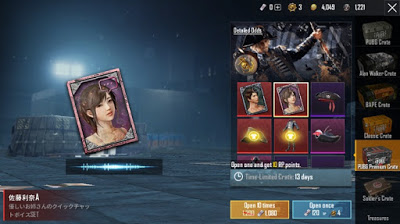 And this's the items at the Japan server
If you haven't connected to any servers with VPN, the shop will show you the items from the Korean server. So you can Gacha without any VPN!
Suggestion: How to Add FPP-TPP Switch Button on PUBG Mobile Global/KRJP (Active.sav TPP-FPP Button)
However the Japanese version has the unique features and I think you guys know this one, Japanese Quick Chat Voice Set! yup, this's only in the Japan server.
Of course, Korea also has its own quick chat, but there aren't many like those on Japanese servers
If you wanna get that Japanese quick voice chat, you must connect to Japan server with a VPN!
Here's my suggestion VPN for you. Just search at the PlayStore and it's free.
Not only that, but the two servers also have differences when there is an event, such as after version update or season change, Japanese and Korean servers will have different events. You can enjoy both by using a VPN!
Best 3 VPN for PUBG Mobile Korea/Japan Player
1. WangVPN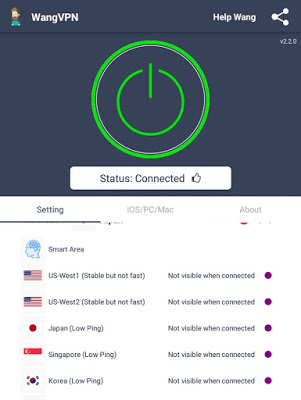 The first VPN you must try is WangVPN, Well…
I've tried it and not bad! You can select between Japan or Korean servers to claim the event on PUBG Mobile Korea Japan.
2. Solo VPN
The first VPN that I'm used to joining the event in PUBG Mobile Korea.
Solo VPN has both Japan and Korean servers. so after you're done with Japan sever, you can switch to the Korean server.
3. Totally Free VPN
Well… Until now I'm using this one!
Totally Free VPN has a lot of servers. Of course the Korean and Japanese servers. You can find the server with high speed up to 700mbps. This's enough for claiming the event's items both on Korean and Japanese servers!
Maybe if you using the VPN, the "ping" will be higher than usual, so isn't playable I think!
I'm only using the VPN to collect the event's items like "Donkatsu" or whatever. Not recommended to play the match while your phone connected to a VPN.
Suggestion: How to Update PUBG Mobile Korea?
Well, That's Best 3 VPN for PUBG Mobile Korea/Japan Player! Just try by yourself.
Have a problem or anything to ask me?
Type in the comment section.
See ya next time!
Neko