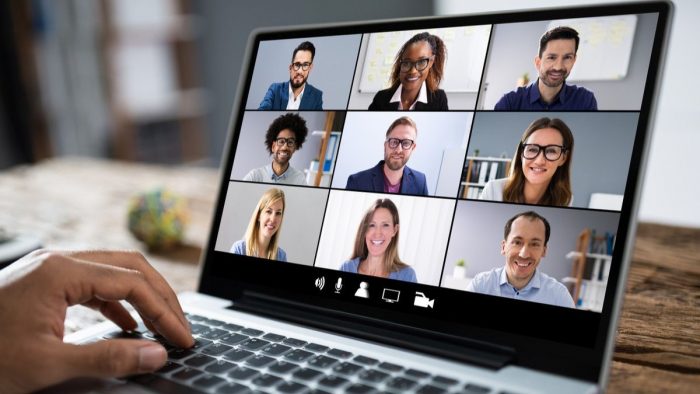 Some organizations and companies that have flexible working environments let their team members work from different locations in assorted regions. If your company isn't one but now has to do the same because of the pandemic, you will be like those companies: downloading an online meeting app to keep your team organized.
Online meeting applications can be downloaded on many devices. But usually, the one we use to have a meeting with many people is personal computers. So down here is a list of the best online conference meeting app for PC. Some of them come with a recording feature so you can listen to what your group says again later.
Online Meeting Apps for PC
1. Zoom
This online meeting application is the most famous one today. It is specifically designed for businesses. Zoom comes with lots of features. It also has many plans that are based on the needs and sizes of the business you have. Zoom is one of the right online meeting apps free. Unfortunately, if you want to hold a meeting longer than forty minutes, you need to buy a premium.
2. Google Hangouts
It is absolutely provided by Google. Google Hangouts is known as an app for individual use with fewer features compared to the commercial versions. If you own a small business, this online group meeting app is the right choice. Its cost usually is low but depends on the team's subscriptions. The cost will start from six dollars per month for each user.
3. Google Meet
The bigger version of Google Hangouts is Google Meet. This one has features that are similar to Zoom's, such as booking the conference room, calendar syncing, and so on. This application is absolutely the right option for a bigger company or organization. Google Meet can be used in personal computers and look really like Zoom.
4. Skype for Business
Skype designed for business comes with many features perfect for your business. It lets you hold a meeting with 250 people at once. Though this app may sound perfect, it has some limitations. For example, it has a lack of integrated audio features and also a lack of hardware support. The fees of each user start from two dollars per month.
5. Slack
Video conferencing has been Slack's functionality which can be an excellent tool for your hybrid teams. This app offers one on one video chat for the free account users. If you are going to hold larger meetings, you need to pay for the customized enterprise. It will require a customizable quote. You can also use it for Windows 10.
6. GoToMeeting
This one is the easiest online meeting app. You can host conference call easily and even let your teams share the screen. This can even be done in the free version. Unfortunately, the free version of GoToMeeting only lets you hold conference calls with three participants. Even WhatsApp allows you to make a video call with three other persons.
7. Cisco WebEx
Cisco owned, hosted, and developed this amazing meeting application. Just like another application mentioned above, this app doesn't let you make a conference call with more than three participants. All users are allowed to share the screen. You are allowed to integrate your platform with the Cisco Spark.
8. TeamViewer
TeamViewer claimed their online meeting application is secure, even more, secure than Cisco's. This app focuses on help and support solutions. It offers unique features like allowing you to run several remote sessions on your Apple computer. There's also a QuickJoin feature that lets customers to easily and quickly join the presentations or meetings without installing the app.
9. Meeting Room
The meeting room lets you book the meeting from anywhere. Booking the meeting quickly can also be done directly in the meeting room. You can even synchronize your meeting room with Microsoft Exchange, Office 365, or even G Suite. This app claims that the data you shared through it is always safe. Get this app and enjoy your next meetings.
10. Microsoft Teams
There's a free version of Microsoft Teams that give you free features like infinity chats. You can start chatting with anyone anytime you want. Online conference and video call is another feature provided by this app. You'll also get ten gigabytes file storage for your team and two gigabytes of personal storage for every user.
11. BlueJeans
This online meeting app comes with many collaboration tools. BlueJeans App is using events, rooms, and meetings system to enable the video meeting everywhere. BlueJeans even let you launch the meetings from the browser with no need to install the software. This is really helpful if you have limited storage space in your device.
12. Appear.in
Appear.in is designed for smaller organizations that are looking for a simpler method to connect the team members. This app features fast service that's enabled by the streamlined nature. It is available for free, but if you need to conduct a meeting with 150 members, the teams will need to pay a hundred dollars a month.
13. BigBlueButton
This application is a wonderful option if you're looking for an app that lets you use an in-app whiteboard. The whiteboard feature is created to help online learning and education. There's also LMS or Learning Management Systems that is designed to create a seamless experience for teachers and students. Yet, this LMS feature available for the paid version.
14. Join.Me
LogMeIn developed this Join.Me app and powered it with many collaboration tools. If you need to have interoffice communications, Join.Me is going to provide nice conferences to prospects, clients, and customers. You can also link it with Google Calendar or Microsoft Outlook to integrate scheduled meetings.
I'm always using the first online meeting app mentioned above: Zoom app. Basic users can only host a meeting for forty minutes. If you need to conduct a meeting for more than forty minutes, it is only you who need to upgrade the version. Once your Zoom is upgraded, you can conduct your meeting for an hour. Your teams can join the meeting from the beginning to the end without upgrading the app.