How to Save a Youtube Video
Have you known how to save a video from youtube?
Actually, on Youtube itself's already a download feature. But you know the default features don't allow you to save the video to your gallery or video player. it just saved in youtube's application.
And youtube is not allowed you to download a copyrighted video, for example, Music Videos.
YouTube is an American video-sharing website headquartered in San Bruno, California. Three former PayPal employees-Chad Hurley, Steve Chen, and Jawed Karim—created the service in February 2005. Google bought the site in November 2006 for US$1.65 billion; YouTube now operates as one of Google's subsidiaries. Wikipedia
There are a lot of downloaders that you can choose but don't trust a suspicious site.
Lately, there has been one youtube downloader's site that was attacked by the ransomware virus.
so be careful when you're using a suspicious application or site to save a video from youtube.
Suggestions: How to Save Facebook Videos to Gallery? EASY
But NyaaTech will show you the safe way how to save video from youtube
TUTORIAL HOW TO DOWNLOAD YOUTUBE VIDEOS
Open Youtube on your browser or application and go to the video which you want to save it
Look at the link bar, just add "ss" behind "youtube" . Example: "youtube.com/xyz" to "ssyoutube.com/xyz"
if you're Android or iPhone users and using a youtube application, just click "share" button and select "copy the link" than paste to your browser
hit enter and you will be directed to a downloader page and choose the format that you like then hit the download button.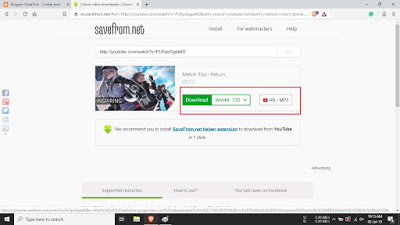 if you want download a copyrighted audio, use it as a preview and don't forget to support the artists/creator by buy the original tracks
That's an Easy and Safe way to Download a Video from YouTube.
It's easy, right?
if you have a problem or anything to ask me, just type in the comment.
see you next time
Neko.